New Creepshow album this fall!
July 17 2013
Two brand new tracks from The Creepshow out now on iTunes!
Full-length album "Life After Death" coming this Fall!
Ltd. 7 inch brown vinyl
iTunes
Stream The BCASA's Fuck You Shredder!
June 10 2013
Full album stream of the BCASA's Fuck You Shredder here!
FUCK YOU SHREDDER
Dig It Up album "Manners" out today!
May 21 2013
Preview and download the new album Manners here!
Manners iTunes
New Dig It Up Video!
May 15 2013
Watch Dig It Up rock the fuck out to their new single
Eyes On Me
from their new album MANNERS.
Stomp Records Hangover Pouzza Brunch
May 06 2013
We're back again this year to help heal, revive and get you ready for the final day of Pouzza Fest madness with a healthy wholesome hangover breakfast.
Sunday May 19th on the Founfounes Electriques patio we'll be serving:
Scrambled Eggs
Tofu Scramble
Sausage
Veggie sausage
Baked Beans (veggie)
Hash Browns
Toast
Tomatoes
& Cheese
It's FREE for bands (just show your pass) or $1 per item.
Facebook Event click ...
HERE
xo
DIG IT UP Join The Stomp Family!
May 01 2013
We're insanely happy to welcome our good friends Dig It Up to the family! Click your clicker on the link below to get a taste of their new album "Manners". Set for release on May 21st!
The BRAINS release "The Monster Within"
April 16 2013
Montreals' finest purveyors of psycho punk rock n roll drop their album
THE MONSTER WITHIN
"Now three albums into a killer streak in which they can do no wrong, their latest full length, The Monster Within, hits all the right notes yet again." - ThePunkSite.com
The Hellbound Hepcats have a new tour video...
March 05 2013
for the song "Getting Nowhere Fast" made on their last Canadian tour = a month of mayhem on the road sharing the best venues with The Fundamentals and The Creepshow.
Enjoy
The Hellbound Hepcats - Getting Nowhere Fast (tour video) from SequenceFilms on Vimeo.
The Real McKenzies & East End Radicals tour
March 04 2013
"My Luck Is So Bad" is the latest video from The Real McKenzies
With St Patty's around the corner The Real McKenzies & East End Radicals are hitting the Canadian west coast. Check all dates w/ ticket links
HERE
You can bet every show on this tour is gonna feel like a raging St patty's day!
You can check out tracks from them both
HERE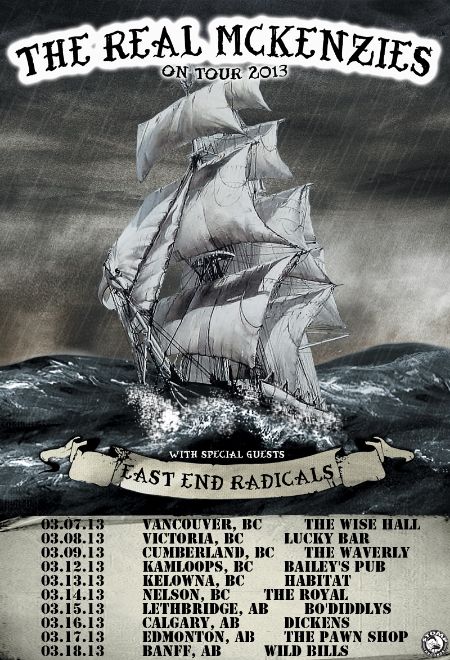 Pouzza Fest 2013 line up announced...
February 26 2013
So many awesome bands have just been announced for this years Pouzza Fest (a combination of Poutine and pizza = genius) a punk fest in downtown Montreal!
Bands on our label playing include:
The Planet Smashers, The Creepshow, The Beatdown, The Hunters, Miracles, East End Radicals & BCASA!
Some other major headlining bands include: Me First & The Gimme Gimmes, Big D and The Kids Table,Slackers, Good Riddance, New Found Glory, Dead To Me, MXPX, The Ataris, and many many more!
You can buy tickets, day passes, and weekend passes here:
PouzzaFest.com
We'll also be hosting a Hangover Breakfast party on the Sunday from 10-1 at Foufounes Electrique!
See ya in the pit!
BOIDS
Superbafrango LP
LP $20.00 CDN
LP $22.00 US
Buy CD
BOIDS
Superbafrango LP
LP $20.00 CDN
LP $22.00 US
Buy CD
Brains
Out In The Dark (Limited Edition LP)
LP $20.00 CDN
LP $22.00 US
Buy CD | Buy Digital